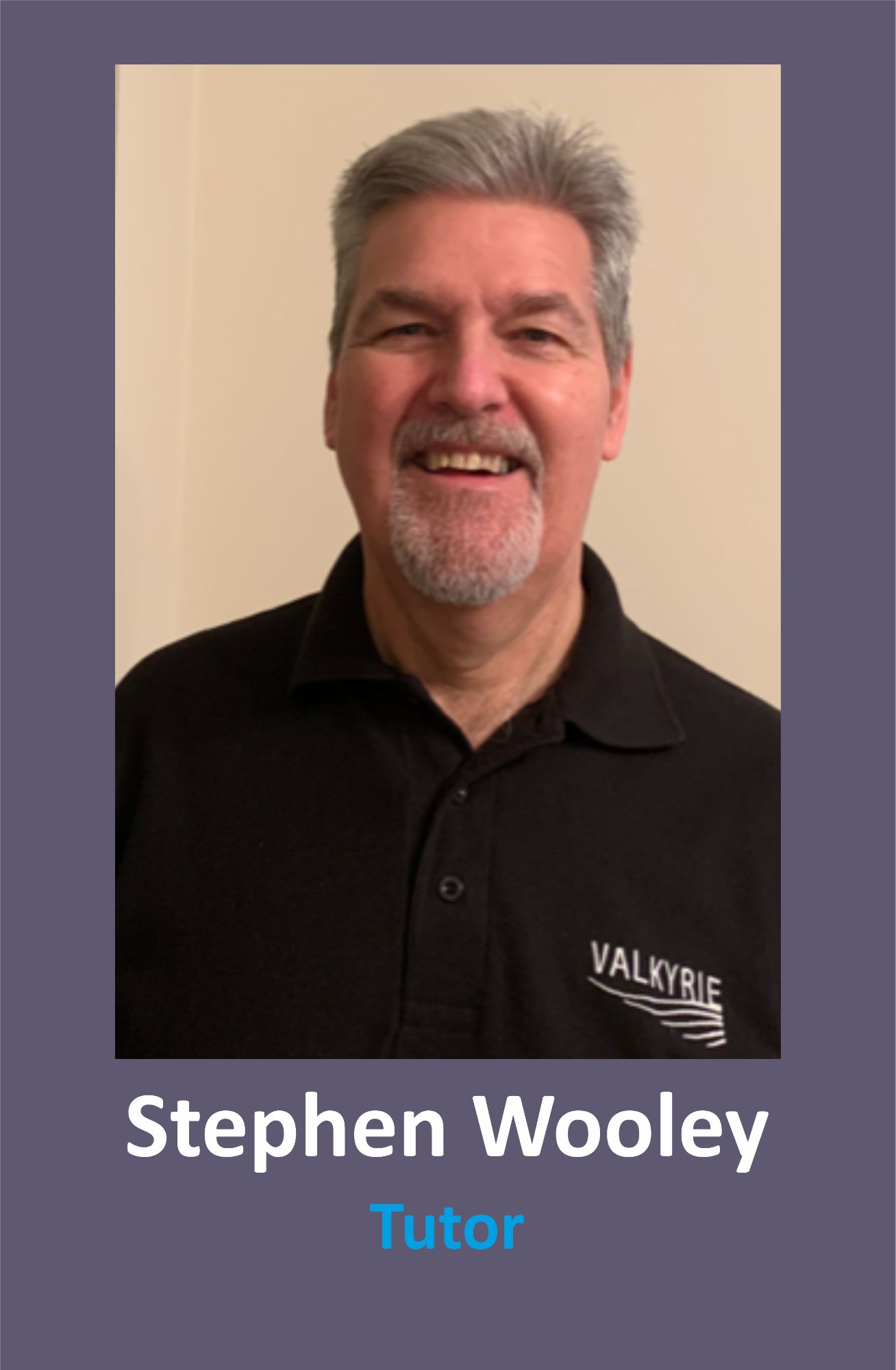 What made you decide to become a Tutor with Valkyrie?
Why do you like working for Valkyrie?
From the outset of my initial interview, throughout the induction period and introduction to the further Education working field, I feel I have joined something very special, Valkyrie are proving to be one of those companies you do not come across very often, one of those companies that you can spend half a lifetime looking for, Why am I saying this? Why indeed? Well there are many reasons, to mention a few, the longer I work at Valkyrie the more I realise and experience the nature of the core principles that the company function upon, namely Honesty, Reliability, and Excellence, I can honestly state Valkyrie conduct their business under each of these banners in a most highly professional way, to the people who work together in the team, towards the Learners/Apprentices by delivering professionally tailored and specific apprenticeship packages, and towards the Management teams in the numerous companies who rely on Valkyrie to deliver a high quality Apprenticeship for their employees, and finally the whole Valkyrie team, who are broadly diverse, extremely friendly, and have an abundance of help and support when you most need it.
What makes Valkyrie different to other training providers in your view?
I can only express my honest opinion as to why Valkyrie differ from other training providers, firstly, Valkyrie strive to stick to their core principles, they do this successfully by strictly adhering to the policies and regulations set by the controlling bodies of the UK Government for further education, secondly, by calling upon the vast amount of experience they have within the team to ensure the delivery and assessment of subjects are conducted in the most professional way possible, Thirdly, Valkyrie tailor their apprenticeship packages to the many various and complex requirements of each individual company that best fits the nature of work required from the apprentice once qualified, finally, Valkyrie maintain an absolute all round "we care attitude" this is for every team member working at Valkyrie, engaging them in a comprehensive training program, including the Safeguarding and Prevent programs, to help keep the apprentice/learners safe and have a sound sense of wellbeing.
What key advice would you give to someone thinking about training with Valkyrie?
Again my honest opinion, Go For It!!, you will struggle to find a company that operates in this manner, as I said previously Valkyrie conduct their business in an extremely and highly professional manner, they really do care about you as an individual, and they care about their customers, and go that extra mile to ensure this is maintained.
What have been the highlights of your time with Valkyrie to date?
Without a doubt meeting the team, they really are a friendly group of people, and being from all walks and stages of life, each and everyone has a different and interesting story to tell, next would be the engagement of the training program being a comprehensive and well delivered package, and last but not least seeing the enjoyment on the faces of the apprentice/learners when they get that light bulb moment, during the tutorial where they may have been struggling to understand a particular subject, but then they finally "get it" and really do understand what they wanted to learn.
What are your personal and professional aspirations? My personal aspiration is to continue learning and being part of the Valkyrie team, then maintain that feeling of being happy to go to work,
Professional aspiration, I would like to develop my tutorial skills to perfect my delivery method, to then exceed the expectations of the management team at Valkyrie, and constantly meet the needs of the apprentice/learners.